The Personal Story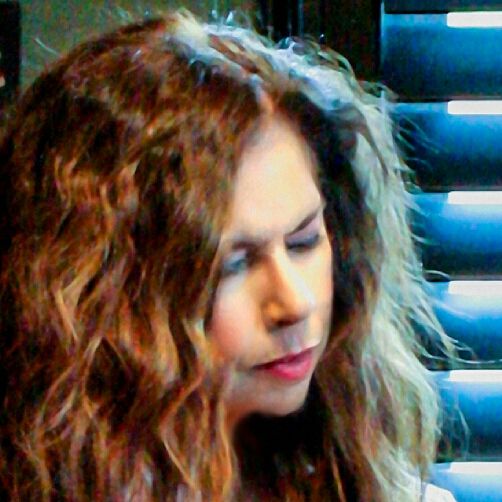 THE ROOTS
I was fortunate to be born into a family of open-minded souls who loved and played all kinds of music, filling my head and my heart with a wide range of influences. 
When I was very young my mother would wake me up from my naps by softly playing Dean Martin's rendition of "Volare", slowly but steadily increasing the volume until I stirred.  I see now that she was way ahead of her time... she was the original 'human' Bose Clock Radio.  
A sampling of the favorites that were played, over and over, at our house, appears below....(and they occurred pretty much in this sequential order, since our parents, obviously, controlled the record player early on) ... (you can see the progression of my sister, my brother and me developing our own distinct musical tastes)..... 
Artie Shaw… Tommy Dorsey… (I saw LOTS of RCA Victor record labels around our house)... Rodgers and Hammerstein… Gilbert and Sullivan… The Seekers…. The NEW Seekers… The Kingston Trio…. Buddy Rich…. Duke Ellington… Miles Davis… Judy Garland… Peggy Lee… Trini Lopez… Dean Martin... Jackie Gleason's orchestral compilations of "Music To [do this] By" and "Music To [do that] By"... Chubby Checker... Little Richard... Bossa Nova tunes... Elvis Presely... The Four Tops… The Temptations… Darlene Love... Dionne Warwick... The Ronettes... The Dixie Cups... The Shirelles.... (ALL the 'girl groups' really)... Dusty Springfield... The Beatles…. The Beach Boys... The Supremes... The Rolling Stones … The Kinks... Ike & Tina Turner... The Young Rascals… The Mamas and The Papas… Janis Joplin... The Byrds... Cream... The Hang 5... Bob Dylan… The Band... Dvorak… Laura Nyro … John Lennon (solo)… Lou Reed... Bruce Springsteen… Patti Smith… Mozart... Haydn... Elvis Costello... The Specials... The Pretenders… Schubert... you get the picture. 
(See below.) (If you're in the mood to read more.)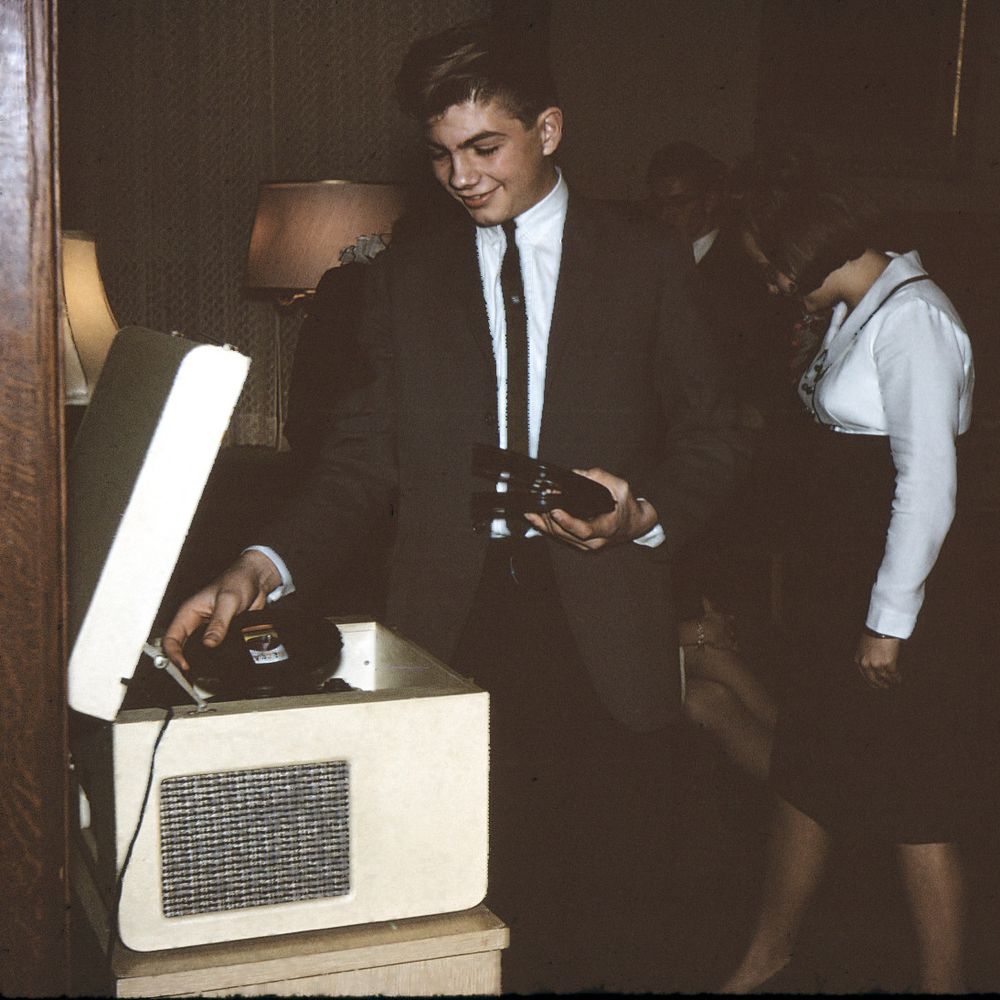 THE GRUBER FAMILY RECORD PLAYER (THE actual one is pictured here) (and as usual, it's 'busy at work')
Between my parents, my sister, my brother and me, the stylus of the family record player was practically always engaged, busily bouncing its way along the grooves, and the furniture in our center hallway and living room often got pushed back to the walls (and the rugs rolled up) to make way for dance parties. 
I applaud my parents not only for encouraging such activities, but also for initiating this ritual.
Our lives weren't perfect, but we could use the music to take the edge off.  Our parents gave us the gift of showing us 'that'. 
I recall surreptitiously watching the goings-on of their "grown-up" parties from the top of the stairs (when they thought I was safely tucked away in my bed, of course) and seeing them merrily reveling, doing "The Limbo Rock", the Fox Trot and yes, the Twist!  Sometimes despite having had a challenging day or being in the midst of something profoundly unhappy. 
I grew up with this 'life equation' : 
Music = Spirit Salvation = Sustenance to one's very soul 
Just a little aside here... When my parents split up and my Mom and I were packing up our house after it was sold, at one point or another each day, she would announce "Dance break!" and put on a Chubby Checker record for us to do the Twist to.  (It was always Chubby Checker for some reason, when we were packing up the house.) And she and I would do the Twist to our hearts' content and get our smiles on.  Just the two of us, in the (by then) nearly empty, and already echo-y house.  The Twist got us through it.  That record player was the last thing she packed up.
But I digress.
Songs started flying into my head when I was around 7, and my Dad presented me with my first portable (cassette) recorder so that I could grab the melodies before they flew away. (My best way of describing it.) And that little exercise has continued throughout my entire life.  Daily.  Sometimes hourly. 
So, you get the gist.  I write songs.  Of all genres.  Ballads.  Rock 'n roll.  Pop.  Folk-y.  Dance-y.   Sometimes "skip to my Lou-ie".  (!)  Glad.  Sad.  Loving songs.  Not-so loving songs. (!)  Little snippets.  Epochs.  Industrial.  Novelty tunes.  Cinematic stuff.   It's all over the proverbial 'map'. 
And fact is, I kind-of 'have' to write songs. (And I know there are millions of you out there who are similarly afflicted and understand exactly what I'm talking about.) 
I've been in quite a few bands over the years, off and on, starting when I was very young and continuing throughout college and beyond.  Sometimes playing percussion.  Sometimes guitar.  Occasionally, the accordion.  More often, keyboards.  But ALWAYS doing vocals.  (Either backing or lead.)  And almost always dancing.  ('Cause y'know, that's what a good song makes you wanna do!)  
Point is, I love being on stage.  But the one thing that has been THE most consistent thing with me over all these years, is the writing.  And I'm not sure it's even a 'choice'.   It's just what happens.  The songs fly in.  And they're a healthy mix of "Maybe good!" and "Maybe not-so-good."  And yes, sometimes there's no doubt about it... "Pure RUBBISH!" (And I'm not sure I want to share with you the percentage of each of those categories!)
Luckily for me, though, no matter what they 'be', they always feel like nourishment.  
And well, y'know... we all gotta eat.